Our Process
How our Digital Marketing Process works
Your Full Service Digital Marketing Team
1. Schedule a Call
We're excited to learn about your business!
Book 30 minutes and tell us about your goals, plus get all of your questions answered.
2. Choose your Plan
Everything we do is fully transparent, including our pricing. You decide the right speed for your monthly budget. Don't worry - you can upgrade, downgrade or cancel anytime.
Full CMO Marketing Department Services
Bronze
80 Team Hours
$2,800
per month
Silver
160 Team Hours
$5,400
per month
Gold
240 Team Hours
$7,200
per month
3. Develop Your Strategy
Together, we will work through a detailed digital marketing strategy that positions your business to meet and exceed your goals.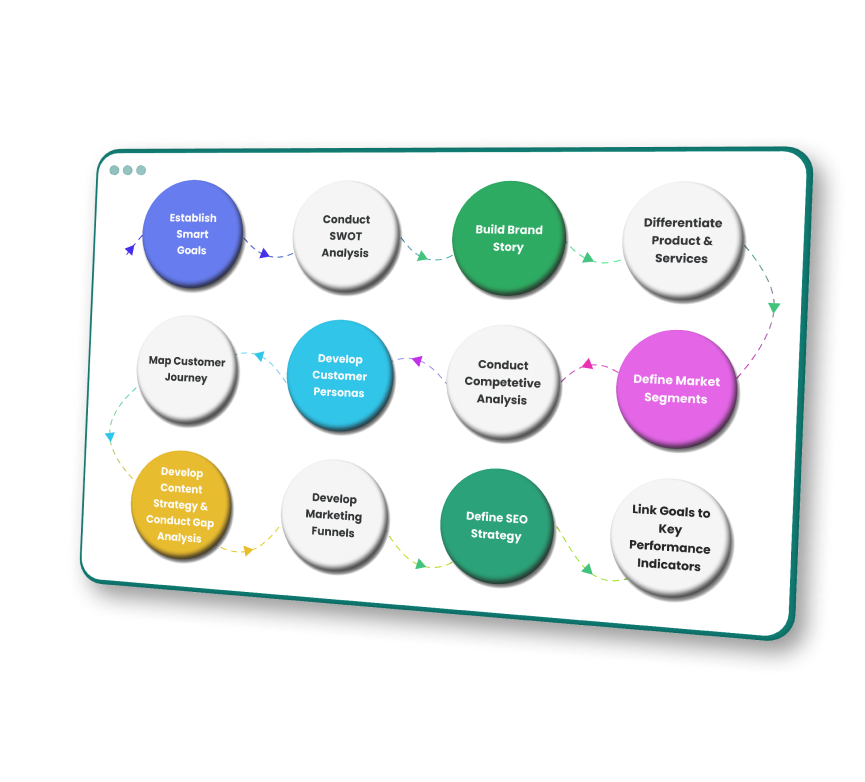 4. Build Your Plan
Your strategy sets the direction for us to execute your digital marketing programs. Next, we build detailed plans that enable us to accelerate your digital marketing results.
5. MarTech & Data Stack
Digital marketing success demands two vital components - the right tools and the right data. We ensure your business is positioned with all of the right stuff before we start executing.
Data Requirements
Data Collection
Data Reporting
Title and Description
6. Execute, Execute,
Execute! Now is where the rubber hits the road. We work every week on executing your digital marketing plans and driving to meet and exceed your digital marketing goals. Some of these activities are projects with start and end dates and some are never-ending activities, such as content, social media, and email marketing.
Project Execution
Website Design & Development
On-Page Search Optimization
Page Expiernce / Core Web Vitals
Personalization
Mobile Responsive Optimization
Technical Search Optimization
AI Chatbot Development
Marketing Automation
Recurring Execution
Content Creation
Email Marketing
Reviews Management
Offline Marketing
Social Media
Off-Page Search Optimization
Digital Advertising
Data-Driven Analysis
7. Constant Communication
It is vital that we are in constant communication. We will set up a private Slack channel for instant communication 24/7 and schedule recurring meetings to review our progress, make data-driven decisions and adapt our activities.
Don't Forget to Schedule A Call
That's all it takes to get started.
Book 30 minutes and tell us about your digital marketing goals, plus get all of your questions answered.