In this post, we have listed down 7 tricky and peculiar local SEO challenges businesses in New Jersey face. The post is relevant to any business operating in a densely populated area.
New Jersey is one of the most densely populated areas in the United States. The close proximity to NYC and the dense population has made small businesses in NJ thrive. But that also means higher competition. How do you compare more brand awareness and beat the competition? SEO is one of the top digital marketing strategies to make it happen. 
We offer local SEO services in NJ and these are some challenges we have faced while working on local SEO in NJ for over a decade and also, how we tackle them. 
7 Tricky Local SEO Challenges and How We Overcame Them
Online Reviews
Optimize Google My Business Page
Website Re-Design
Marketing Analytics Setup
Localized Content
Use Localized Keywords Naturally
Optimize Local Landing Pages
But before,
Why local SEO? Isn't it good to rank for a keyword everywhere?
It may be, if you're operating nationwide.
If your business is catering only to local customers, targeting keywords nationwide will be more expensive, and time consuming. It'll also impact your conversion rate, which will go on an all-time low.
Moreover, with local search optimization/geo targeting, it's possible for you to boost your online visibility in an exponential manner. This business saw a 333% growth in revenues after they started focusing on Geotargeting despite heavy competition.
1. Online Reviews
Even though there's a clear cut difference between local SEO and online reputation management, the latter has a big impact on your local search rankings.
Lots of online reviews, preferably positive, on websites like Yelp, Yellow Pages and other high-ranked directories can improve the rankings.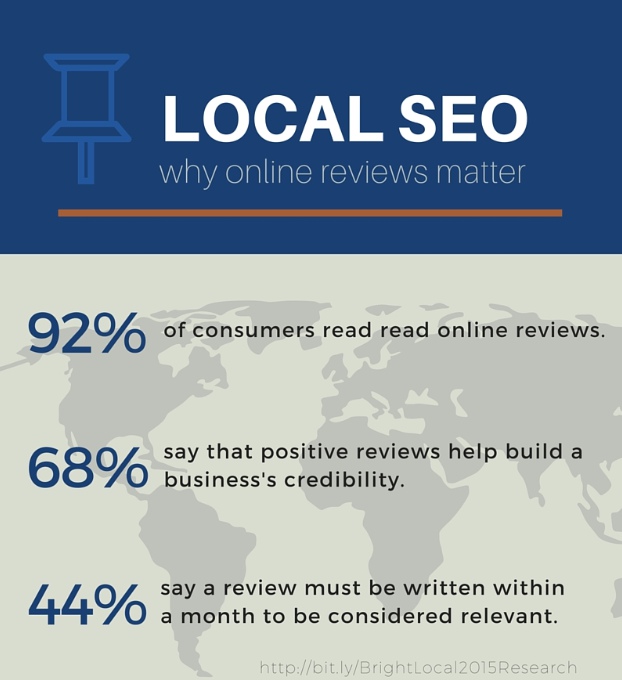 local NJ SEO online reviews
It gets tricky because the reviews have to be genuine and user-generated. It isn't technically what an SEO's job profile includes.
We recommend businesses to opt for our ORM services, which are dedicated to review generation and maintaining an overall positive image of the brand online.
2. Optimize Google My Business Page
Setting up your Google My Business page is rather easy but optimizing it? It needs careful work.
Moreover, these details like your business address, phone number, email address must be similar to what's being displayed on your website.
For local businesses, it's crucial to have your website display all these contact details clearly.
In fact, it's the first thing we do when we begin our local SEO services for a client.
3. Website Re-Design
Over 50% small businesses don't even have a website, even when Google search is the new yellow pages and people use online search before purchasing anything.
And then there are businesses which have unresponsive, slow and user repelling websites. Your website is the face of your brand. You better make it good!
When we do our initial audit, we check the business website and see if it needs our design and development services.
The goal is to ensure the website has a user-friendly design, SEO-friendly structure, and is fast, and responsive. All these features are essential for a website now to rank well in search results.
4. Marketing Analytics Setup
Many businesses argue that they never plan to use a certain marketing strategy, and hence, never get the analytics setup done for it. But a  good business decision would be to set these analytics up so that you don't miss out on precious data.
For example, even if you don't plan to run Facebook ads even in next five years, it would be a great idea to have your marketing team set up the Facebook pixel and let it track your website traffic. Later, when you'll actually run the ads, you will have large audience for your remarketing campaigns. The same is with Google Ads. 
As a part of our local SEO services, we begin with setting up Google Analytics - with proper goal setting, and e-commerce settings (in case of an e-commerce business) and search console setup. We also recommend our clients to opt for Google ads setup, Facebook ads setup, email marketing setup and basic CRM setup to ensure they're growth ready.
5. Localized Content
Here's a good news for most of the businesses - most of the content on the local business websites is usually never optimized.
If optimized, it's not localized.
If localized, it's not done in a natural & convincing manner.
Why? According to Clutch, only 44% businesses invest in SEO. Only 17% SMBs at the moment include SEO in their digital marketing strategies. It's mainly because SEO is hard work and lacks instant gratification, as noticed by Clutch in their survey. But digital marketing experts agree that SEO is the core of any digital marketing strategy.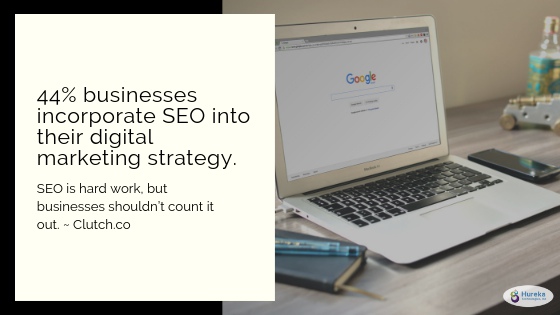 Be sure to hire experts who know the ins and outs of the region you're targeting, and ensure your content has the local dialect and information splattered throughout it.
In fact, it's one of the many reasons why we started our local SEO services in NJ & NYC and are slowly expanding our SEO business. We wanted to be the experts in each of the regions we work in as expert knowledge is unbeatable when it comes to any kind of digital marketing strategy.
6. Use Localized Keywords Naturally
Using keywords with local intent is the biggest challenge faced by organic marketers. Incorporating such keywords on a page's copy for local SEO is the trickiest.
Imagine this!
To promote our own SEO services in the New Jersey, let's say, we picked the obvious keyword - "SEO services". Its location-specific version would look something like "SEO services in NJ."
If we try to use the location specific keywords in our copy or blog posts, it would look something like this:
Statement  1: 25 on-page SEO services and techniques that will work in 2021
Statement 2: 25 on-page SEO services in NJ and techniques that will work in 2021
Statement 1 is okay but statement 2 doesn't really make sense. And that's the easiest example. The actual decisions our SEO team has to make to incorporate location specific keywords are far more complicated.
Often, the location specific keywords can make the statements seem completely out of context and 'unnatural.'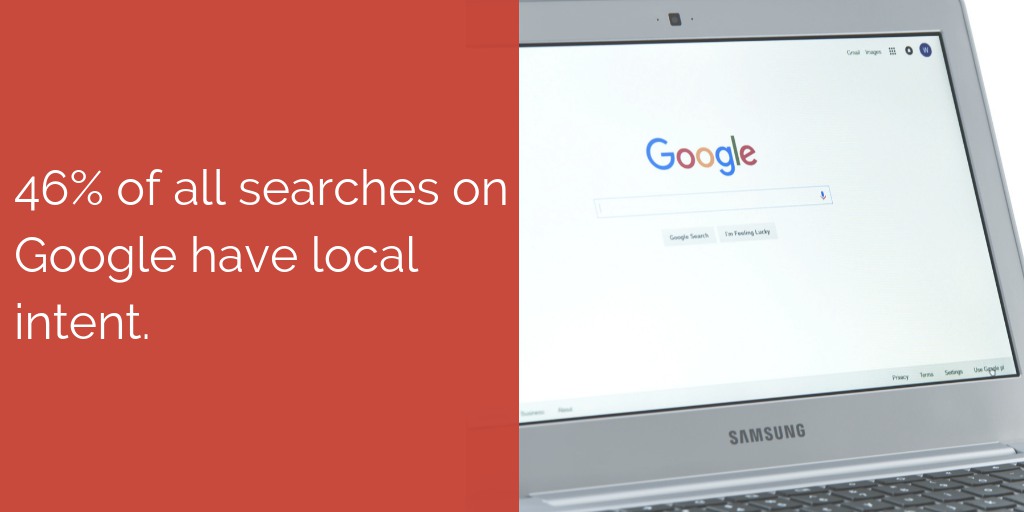 The only solution is naturally inserting all the location specific and LSI keywords in the content. It's time consuming.
Sometimes, it requires changing the entire paragraph or adding new pieces of content but it's the only way of creating local SEO optimized content that's future proof!
7. Optimize Local Landing Pages
A few years back, SEOs would make multiple landing pages targeting each locations. That meant lots of location specific pages, good keyword density and lots of interlinking. However, Google termed such pages as 'doorway pages' calling it spam. What now?
How do you target more than one locations? Do you do that with one landing page or multiple? 
As most of our clients opt for local SEO, we devised our own strategy that follows Google's guidelines and gets the job done.
Here's our strategy: 
If the location in question has high number of searches and is a rather big location, like NJ, we create a landing page for it and optimize it. But for smaller locations, like counties or localities, we optimize using blogs. 
Conclusion
The biggest challenge for local SEO is generating and managing online reviews, as it's highly user-dependent.
Three tasks - website redesign and development, optimizing the Google my business page and setting up the marketing analytics must be performed in the initial stages of the SEO and then, regularly monitored.
Creating localized content, localized landing pages and naturally embedding location specific keywords in landing pages require seamless collaboration between the content writing and SEO team in a company. 
All in all, local SEO just requires you to fix your focus on being location-specific and then, creating natural content and optimization strategies for it. 
As a business owner, what do you think is your biggest SEO challenge?
If you're in need of local SEO services in NJ or NYC area, get in touch with us for more details. 
7