Text messages have been there since decades but are they still relevant? In this post, we discuss the emerging trends in SMS Marketing, putting it right at the top in the list of preferred marketing channels by marketers all around the globe.
Find out how SMS marketing can boost your sales & conversions even through other marketing channels, do's and dont's of sending text messages and what's next in this marketing field.
Top 7 SMS Marketing Trends of 2021
1.Use of SMS to Send Transactional Status Messages
Nobody wants loads of messages filling up their inbox but if there are any messages that customers demand voluntarily, that's the transactional status messages.
Messages informing customers about their order confirmation, shipping details and an order completion message are appreciated by consumers.
In fact, there's a higher chance of a consumer redeeming a coupon sent via an SMS as compared to a printed coupon.  
For recruitment purposes, a company could use text messages to inform the candidate about the status of his application.
Almost all businesses can leverage this trend and make more profits.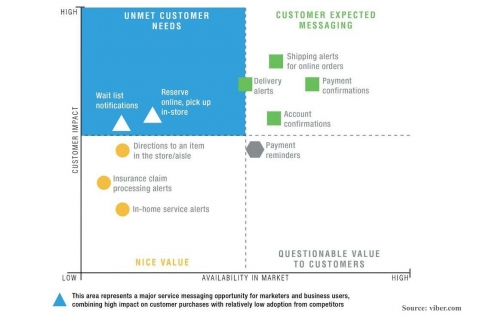 2. SMS Marketing Is Going To Be The Leading Direct Marketing Channel

In 2017, 37 million people opted willingly into receiving messages from brands. According to these stats, over 49 million people would opt for SMS marketing by 2020. Source
With mobile devices surpassing all other electronic devices, it's a huge opportunity. Brands can craft creative SMS campaigns to promote deals, offers and share important company news.
In 2018, brands are looking to tie up this form of marketing with other marketing channels, where they can promote more freely, as there are only so much messages you can send to a customer without annoying them.
What's to be noted is that it's the best direct mobile marketing channel at the moment. Consumers don't want to download tons of apps on their devices. In fact, they often purge and remove the ones they don't use much. However, their attitude towards text messages stays positive.
With digitization, consumers are making an effort to minimize use of devices and yet, they don't consider SMS as a part of their addiction to digital apps and internet. It's a huge opportunity for brands to reach all consumers, with zero resistance.
3. SMS Marketing Is Going To Offer More Conversions
According to Business2community.com report we mentioned earlier, response rate of SMS marketing is 209% higher as compared to Facebook, email and phone calls. Clearly, text messages can help brands drive sales.
In 2018, marketers are working on crafting SMS content that carefully places the coupon codes, links and CTAs to make the consumer take action.
One of the biggest trends in SMS marketing is using text messages to drive sales and traffic to websites by sending links in SMS. You can send a link in the SMS asking your customers to use it to avail a deal or give you feedback.
90% SMS sent are read within 30 minutes. With high open rates and conversion rates, SMS can be your leading traffic source, if you use it effectively.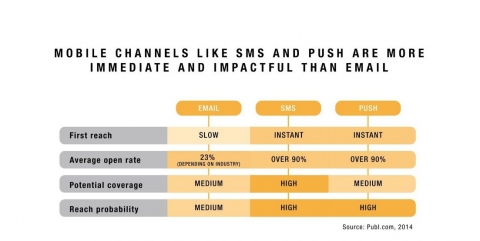 4. Top Industries Are Using SMS Marketing
E-commerce stores use SMS marketing to offer customer service - keep customers informed of their orders, confirm orders, ask for feedback and even, send reminders and FAQs.
Banks are using SMS to offer information about account balance, and transactions despite the privacy & security concerns.
Local communities are sending information like weather results, road block updates and application status for things like construction work.
Soon, all the companies that moved on to other lucrative marketing channels are going to be back at SMS marketing, recognizing its effectiveness.
5. Personalization in SMSes
Most of the businesses have data like - birthday, anniversary and general favourites of their customers but very rarely do they use this data in SMS Marketing.
In 2018, the data is being used to form a personal bond with the customer and encourage brand loyalty and sales.
6. SMS Marketing Is Winning Over Email Marketing
According to Gartner, SMS response rate is 45% whereas Email's is just 6%. It's very much because of the fact that the average number of texts a person receives in a day is much lower than average number of emails received by an office worker.
Forbes suggest that 95% of all text messages are read within three minutes. No wonder why the response rate is so high!
According to Digital Marketing Magazine, 75% people are willingly, even happy, to receive offers via SMS and over 65% marketers swear about the effectiveness of SMS Marketing. Now, it doesn't mean email marketing is dead, it's still very effective, but it's certainly losing to SMS marketing.
7. Text Messaging Chatbots
The AI enabled chatbots can effectively converse with customers through SMS - sending them instant replies, reminders and answering FAQs.
These chatbots use latest advancements in the technology - like natural language processing and machine learning to learn from previous data, collect more data and effectively understand that data to respond to human queries in a natural way.
Summing up, SMS marketing is opening up opportunities for brands whereas other channels are closing down many due to over saturation and spam.
At Hurekatek, we recognize the need of small businesses to leverage the power of this marketing channel and offer customized managed SMS marketing services, lead generation and digital marketing services and FREE consultation to help you take the right steps at the right time.
As a business owner, we hope this trend report helps you make the right call at the right time.
5