Do you want to utilize PPC advertising but are being constantly beaten down by the competition with big budgets? Facebook has enabled millions of small businesses with its affordable & unbelievably amazing advertising options. 
Before we dive into the details of Facebook advertising, let's bust some common myths.
Are Google ads better than Facebook ads? Well, the audience you can target with Google ads (typically, google search ads) is more serious as the advertising is intent-based. You're advertising to somebody who's already looking for your product or service. With Facebook, things are different. But I wouldn't say that makes the former better. Facebook's algorithm is incredibly powerful to show your ads to people that are more likely to convert, and hence, is equally, if not more, efficient as Google ads. 
Facebook ads are also cheaper, if you run the campaign efficiently, as compared to Google ads. The cost per click and cost per conversion are both cheaper with Facebook. Facebook ads are highly recommended if you're running on a tight budget and have tough competition. We especially recommend Facebook ads for industries that are still tightly bound with their old marketing practices. Such businesses historically tend to ignore social media advertising and keep the path cleared for you to steal away their business. 
Also Read: How to Optimize Your FB Campaigns in Light of Apple's Crushing iOS 14 Update
Types of Facebook Ads Based On Objective
Running Facebook ads could be as simple as clicking the promote button on your Facebook page, or clicking boost on your Facebook post. Both of those simple things also happen to be what we would never recommend. 
Facebook has a fine suite of advertising options that allow you a great amount of flexibility as well as power to define your ad campaign. 
Depending on your ad objective, Facebook gives you three main choices - awareness, consideration & conversion.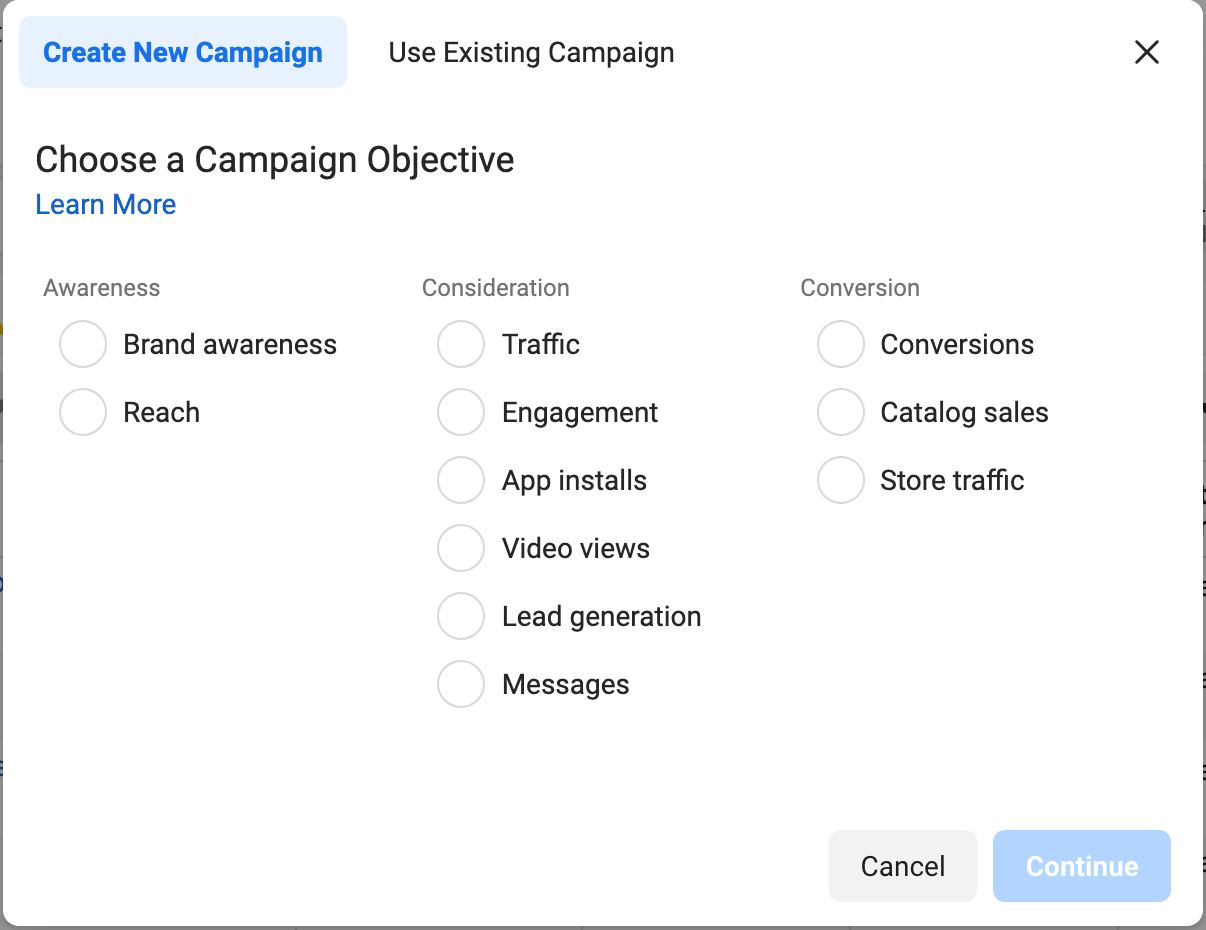 Awareness Campaigns
Facebook ad awareness campaigns are designed to improve your brand awareness. They're further of two types - brand awareness and reach. This is where the nomenclature gets confusing. 
Though both types of campaigns are designed to improve your brand awareness, the options you get on Facebook do different jobs. The Brand Awareness campaigns are designed to improve your brand recall value. In simple words, your target audience would continue seeing your ads repeatedly until Facebook's algorithm is sure they're going to recognize your brand from then onwards. Technically speaking, the impressions would be higher than the reach, for such a campaign.
The Reach campaign is designed to reach the maximum number of people in your desired budget. 
For example, let's say you want to reach the maximum number of people in your city & tell them about your new sale. You'll probably want to do a Reach campaign whereas if you were aiming at making people memorize & recognize your brand, you would go for a Brand Awareness campaign. 
Consideration Campaigns
As evident from the name, the consideration campaigns are more conversion-oriented as compared to Awareness campaigns. Such campaigns put in a lot of weight in making people take some sort of action. 
For example,
Traffic campaign - is aimed at generating the maximum amount of clicks to a particular webpage. You would use this campaign objective if you want people to land on a specific page of your website & just see your offer.
Engagement campaign - is aimed at creating engagement on a Facebook post. The post could be a picture, video, or an announcement of some specific offer about your brand. The focus is on getting people to like, comment & engage with such a post. You could also run a special offer with this campaign. For example, you can run a campaign offering a coupon code that people can utilize with their in-store visits. 
App Installs - is aimed at nudging people to install an app, clearly relevant for businesses that are looking for increasing the individual downloads of their app. 
Video Views - is aimed at increasing the number of views per video. Say, you've created a new ad & you want a lot of people to watch it. You would use this campaign objective and for that use intro video maker to create a stunning intro to increasing watch time.
Lead Generation - is aimed at generating leads. You can either directly collect emails & phone numbers via this or get calls directly from the prospects. 
Messages - is aimed at getting more people to message your page. This triggers a conversation, that you can continue with your target audience to direct them to more valuable actions. We would also recommend this campaign, as a hack to increase your messenger subscribers so that your messenger chatbot can do its magic. 
Return-wise, lead generation campaigns are our favorite in the consideration stage. They're highly recommended for B2B businesses that want to generate relevant leads via Facebook & then, would follow up with a phone call & email to drive this lead towards conversion. 
If you're a service-based business or have a high-ticket product/service that cannot be converted without human intervention, we highly recommend lead generation campaigns.
Conversion Campaigns
These campaigns are where the most valuable actions take place - a person goes directly to your website and completes the purchase. That's what conversion campaigns try to achieve. 
Conversion campaign - is a campaign, often utilized by e-commerce businesses, where the customer is taken directly to the website to complete a purchase. A conversion is counted when a purchase is completed. However, depending on your campaign & goal settings, a conversion campaign could also be aimed at having people sign up for a service or fill up a form. It's all about setup and your particular business objective. 
Catalog Sales campaign - is used for remarketing on Facebook. Did you ever wonder how Facebook showed you exactly the product you put in your cart on that website you were browsing yesterday? These are the campaigns that make it possible! 
Store Visits campaign - is used to increase footfall into your physical store. Most of the time, businesses offer special discounts to actually track this conversion campaign. 
Which campaign is right for you?
It depends on your business model & goals. 
Let us try to explain with a few examples. 
If you're a new app that you want people to install & try, the app installs campaign is what we would recommend. If you're looking to generate leads, a lead generation campaign would be best for you. Keep in mind, you could also do a conversion campaign with the goal setup of having somebody fill up the contact form on your website. However, we wouldn't recommend that as a lead generation campaign does the same task with less friction. A person doesn't have to leave Facebook & take extra steps to give you the information you need, ensuring the cost per lead is lower with lead generation campaigns. Hence, our recommendation! Keep in mind there are options like collecting leads through a lead form or having people directly give you a call… all of which are decided upon after careful consideration of your business objectives & your customer personas. 
If you're an e-commerce business, we would recommend you conversion campaign and catalog sales campaign. 
Likewise, whatever your business is, the strategy and choice would be different. 
Facebook Audiences
Surely, you should also know about the ad formats Facebook allows but before that, we want to give you a quick introduction to how exactly an ad is targeted on Facebook. 
It's common knowledge that you can target an audience depending on age, gender & location. But Facebook advertising gives you many more options. 
Facebook Audiences
Facebook audiences allow you to create a unique set of audience to fit your business. Let's say you're a business that has a list of emails & phone numbers (your previous customers or data you collected by attending trade shows & events) and now you want to reach them. With the help of the Facebook custom audience, you could upload this list onto Facebook, have Facebook recognize everybody from that list who is on Facebook & advertise to them. That's what Facebook Custom Audiences let you do. 
But they're more than that. You could also install a pixel on your website & track every visitor and then, show ads to all of these visitors. Sure, Catalog Sales campaigns do a similar task for e-commerce business but any business could use Custom Audiences to remarket to their website visitors. 
Lookalike Audience is the most powerful tool of Facebook advertising. Wouldn't it be a dream if you could have a list of your best customers & then somehow use an algorithm to recognize everybody who's like your best customer & reach out to them? Well, Facebook already has that technology. It takes just a little setup, and then, some great ads to get the job done. 
Special Audience is very much like a lookalike audience, but a bit limited. Facebook considers ads related to credit, housing, employment, elections & politics under the Special Ads category. Due to this, a few of the targeting options are limited. You won't be able to create a lookalike audience if you're running ads under this category, but the closest similar option is the Special Audience. It's basically Lookalike Audience, but a little limited.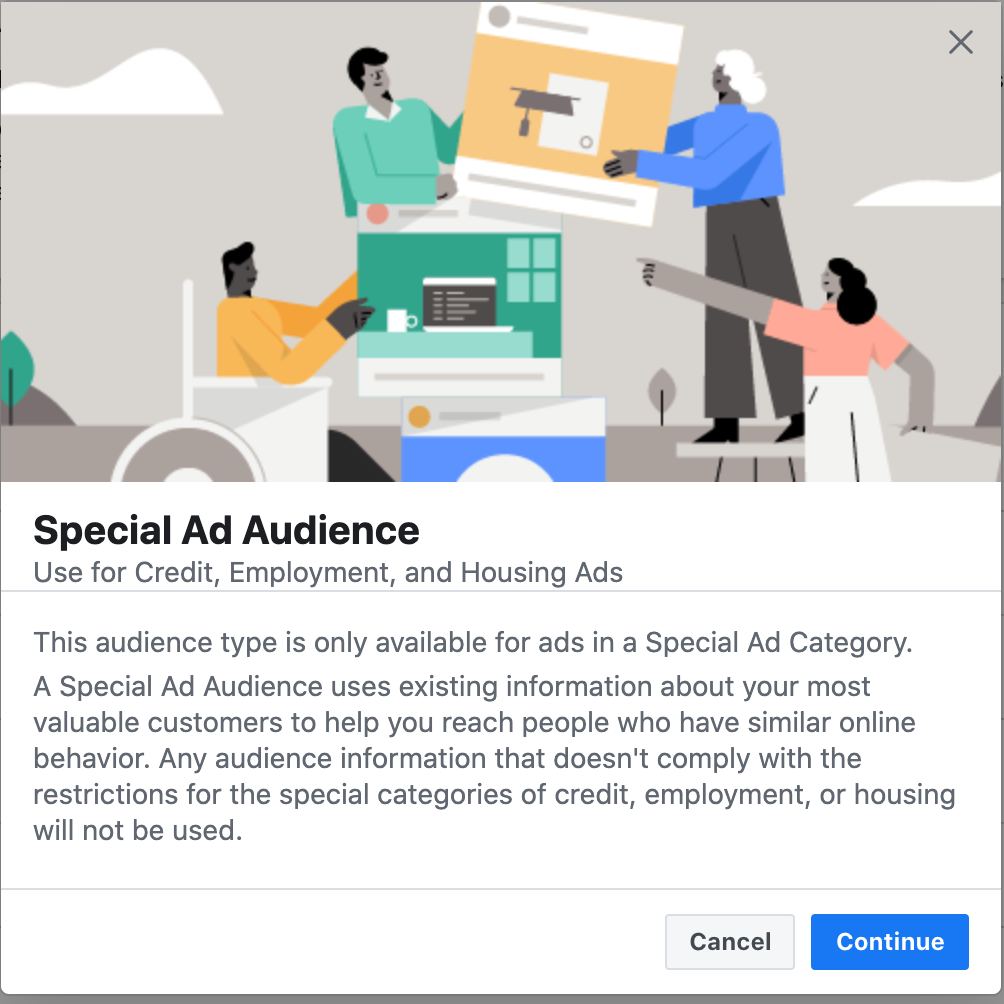 Interest-Based & Behaviour Based Targeting 
Another powerful Facebook targeting option is interest-based & behavior-based ads. Depending on your business & your customer segments & personas, we recognize what interests and behaviors are closest to your ideal customers & then we choose & advertise to them. 
It does take a lot of insight as well as research into exactly what interest & behavior-based ads would work for your business, but with planned tests & split tests, we're able to recognize the best possible setup for businesses to get them the best results. 
Types of Facebook Ad Formats
We've discussed how we can optimize our ads according to our objective & use massively powerful targeting options for running Facebook ads. But the most significant of all is the ad itself. 
Facebook gives you several ad format options like video ads, image ads, slideshow ads, carousel ads, dynamic product ads & lead form ads.
Some new & extremely powerful Facebook ad formats include Instant Experience, designed to highlight your brand. Basically, when you click on such an ad on a mobile device, you see a fullscreen display of the brand. It's like a quick display of a brand's online shop right on Facebook itself. Within this experience, you can showcase your product, get people to watch videos & even fill-out forms. 
Similarly, there're collections that are quite like Instant Experience ads but showcase multiple products. Facebook recommends such ad formats for retail & travel industry businesses, that require people to browse various products before they drive them towards the purchase. 
What format is the best? Again, it depends on your business. To bust a few myths, we would say carousel ads, though often recommended by advertisers as the 'superior ads', may not always get you the best conversion rate. A simple photo ad with a powerful & short CTA could work better at times. Video ads are more engaging. Dynamic product ads are even better, but the right choice again depends on your business type & your budget for the ad creatives. 
Facebook Ads Placements
Ad placements are also very important with Facebook. Remember, when we're talking about Facebook ads, it's not just advertising on facebook.com. Facebook has a suite of options for advertisers when it comes to ad placements. 
On Facebook itself, you've an option to display ads in the feed, on the right side (available only for Desktop), within the Facebook videos feed, on Facebook marketplace, and on Facebook stories. 
Then, there's Instagram. You can display ads on Instagram feed, Instagram stories, and Instagram Explore feed. 
Facebook also allows you to advertise on Messenger. You can display ads on messenger's home tab & on messenger stories. Your ad can appear even as a message for people who have had an existing conversation with you on messenger. 
Another powerful distribution network Facebook utilizes is its Audience Network. Your ads can appear as a banner when somebody is browsing on a website that's part of their Audience network, they can appear in Facebook Instant Articles within the Facebook mobile app, & even as rewarded videos within an app. 
Depending on the ad creative you're opting for, you can choose between these placements. Remember, not all placements are available for all ad formats. Facebook often recommends automatic ad placements, where Facebook itself decides where to display your ad within their ad placement network to get you best results at the lowest possible cost. 
How To Setup Facebook Ads?
Following are the very basic things you need to run Facebook ads:
A properly setup Facebook page for your business
An ad account
A proper setup  payment method for the ad account
Ad creatives
List of emails & phone numbers for creating Facebook audience 
We hope you got the basic idea about how Facebook advertising works. Remember, whether & how the advertising would work for your business depends on who runs those ads & the type of business objective you've. 
At Hureka, we've managed several B2B & B2C businesses & their Facebook advertising. Our team is Facebook blueprint certified and can help you achieve your business objective through Facebook advertising. Get in touch with us now to get started! 
Additional resources - Facebook Ad Sizes
11