The art of building a business stands on the business's ability to communicate with its customers. There are several ways you can communicate with customers, email marketing being one. However, it remains a pillar on its own due to the amount of dedication it takes to just get email marketing up and running. So what you need to get started in email marketing? 
First,  what is email marketing?
Email marketing is an excellent way to stay connected with leads and customers new and loyal. By obtaining your customers' emails, your business has a direct line to announce promotions, updates, and most importantly, stay relevant in the minds of those you do business with. 
Also Read: Small Business Guide to Email Marketing: How to Create Content that Converts
Why Bother? 
Email might be considered in competition with social media, but with all things considered, email is definitely applicable. The email was made for business. Unlike social media's memes, family photos, random comments, and ads, email is safeguarded by its users. If you see any content in your inbox, it's most likely because you chose to have it there. Users are prone to engage with emails in their inbox for this reason. In fact, the email marketing analytics company, Litmus, claims that you can expect email to provide a better value per dollar spent than search or paid social ads. Higher conversion rates per session are also expected in email versus social and search combined.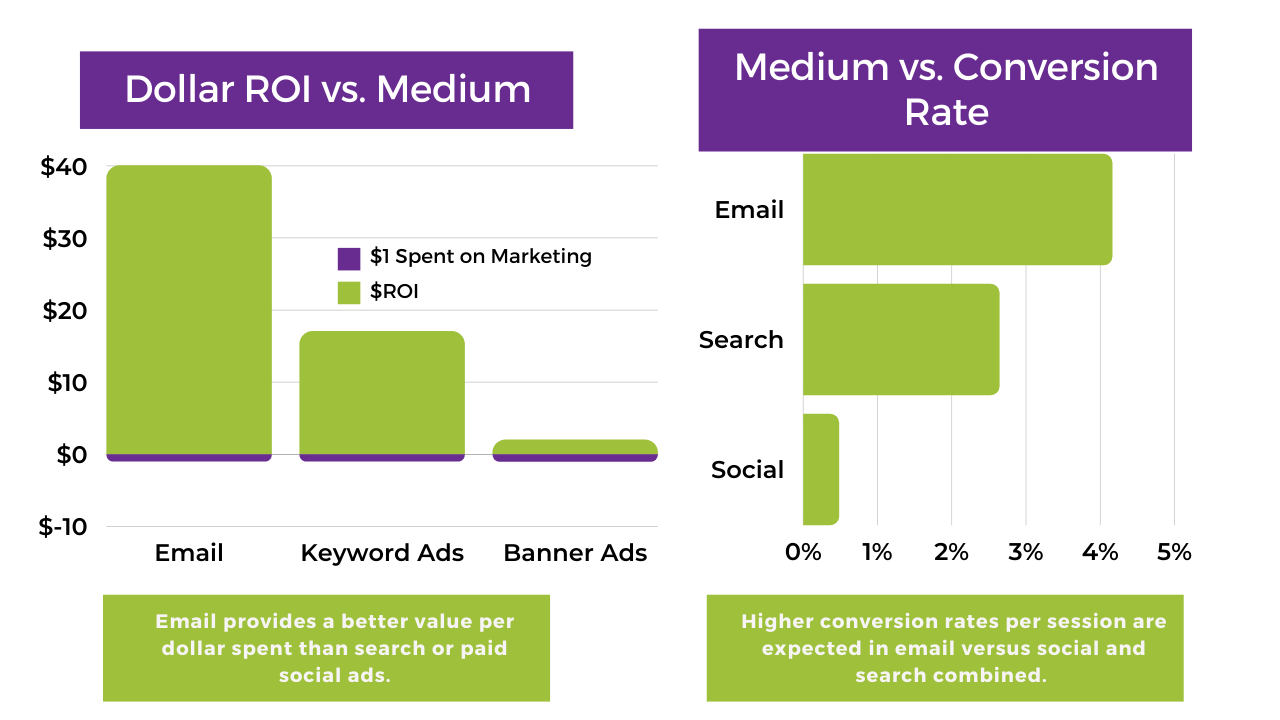 Email marketing starts with a list. If done right, the people on your list will know who you are and will not be surprised when they see your messages. They will be ready to be informed and converted than if the same content was seen elsewhere. 
The First Steps of Email Marketing
The Basics
The List
The Basics of Email Marketing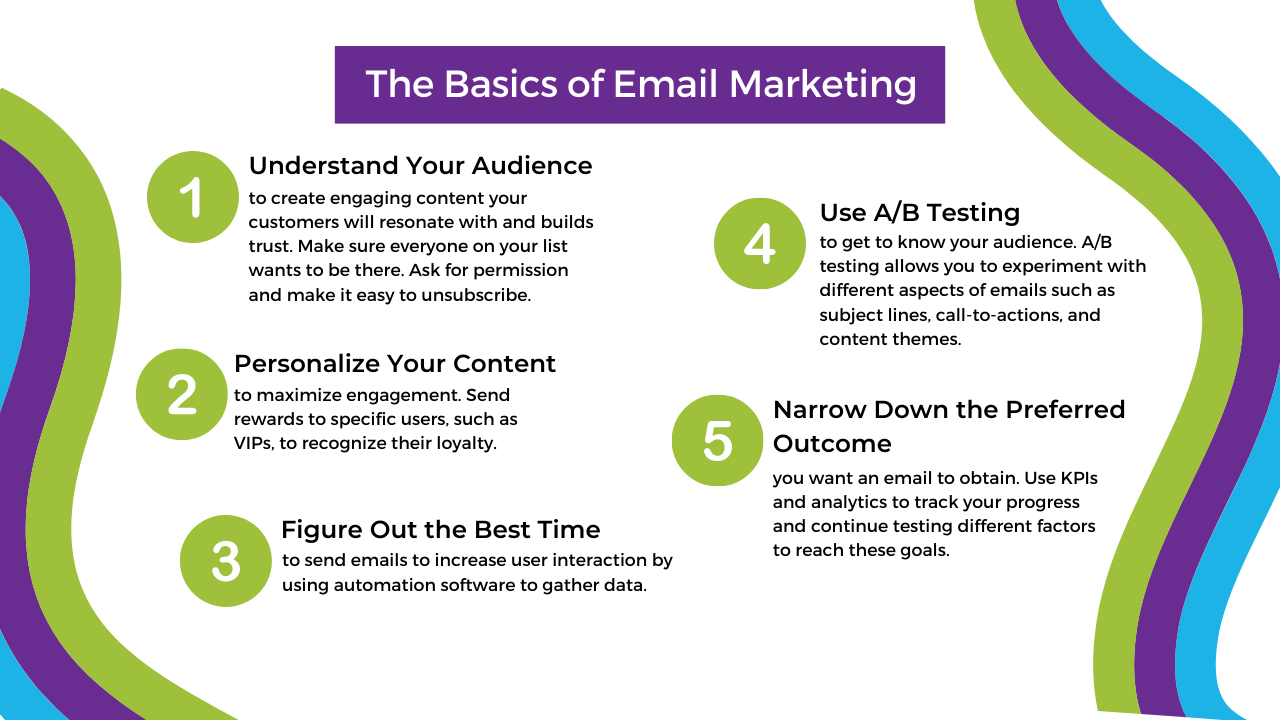 When beginning in email marketing, you should be familiar with these key points:
Understand your audience to create engaging content your customers will value. Connect with them in a way that resonates and builds trust. Make sure everyone on your list wants to be there. It is required that you make it easy to unsubscribe and disclose your location in every email.

Personalize your emails to prevent your message from being ignored or flagged as spam. Everyone's favorite word is their name. Everyone has different problems and interests. Send rewards to specific users, such as VIPs, to recognize their loyalty. Personalize emails for readers to increase conversion and engagement rates. 

Figure out the best times to send emails to increase user interaction. Most automation software can gather data that can be used for A/B testing. However, it is important to choose meaningful metrics to track. 

Use A/B testing to get to know your audience. A/B testing allows you to experiment with different aspects of emails and find what works. Test out names, subject lines, call-to-actions, and content themes. Also, try different links and landing pages to narrow down customer interest. 

Narrow down the preferred outcomes of an email to recognize the main data points. Use the suggestions above to build a strong relationship with your customers & boost sales.
The List
The singular way to create an outstanding user experience that brings in sales is to have a list of emails from interested leads and engaging customers. 
Consent Is Everything
You could take the easy route: purchase a big list of random for a few bucks and blast the poor strangers with random content. Not only is this approach unethical, but it is also extremely risky for the reputation of your business.
Also Read: Small Business Guide to Email Marketing: How to Get Your Emails Opened
Based on the General Data Protection Regulation (GDPR), individuals in Europe must give consent before being added as a contact in an email list. Now, you may be catering to people who are not covered under this regulation, but most email marketing software still requires you to follow these guidelines. Purchasing emails that belong to non-consenting individuals is not only unethical, and in some cases unlawful, it will lead to low engagement and a high risk of being flagged by the email carrier. 
Inboxes are busier than ever & users take no longer than a second to drop your email into the trash. Only email people who opted-in to receiving your emails. 
If your emails continue to end up in the trash or be marked as spam, you'll get flagged by the email carrier. Now, you hold the online reputation of being a spammer. Good luck getting rid of that nasty tag once it's there. 
So, as a general rule, get permission from the users before feeding their email addresses into automation software. It's good email hygiene & ensures your email marketing efforts generate beneficial results. 
Build an Email List from Scratch
To build the perfect email list that will grow your business, start by embedding opt-in forms within your online content, embed email into your product, exchange email for an offer, and maximizing incentive to give an email address by giving valuable content within emails. The main idea is to remember that consumers are always thinking, "What's in it for me." You have to trade emails or something the user will find worthwhile. 
Collect Emails Addresses with Opt-In Forms
If you want to build a functional list of valuable leads you'll have to ask nicely. Use OptinMonster to create email capturing forms and use it in the blog section of your website. Here are a few examples of where to implement an opt-in form to receive an email address. 
Pop-up Box: Pop-up boxes have a bad rep, but they are proven to work. This article by Dan Zarella found pop-ups increased subscription rates by 1.56% versus without one. Every valuable lead counts when it comes to conversion rates. The same study concluded that bounce rates are not significantly affected by pop-ups. No harm, no foul. 

Feature Box: For the light of heart who aren't convinced that pop-up boxes are the way to go, do not fret. There is also the option of a feature box. Feature boxes are strategically placed throughout your website content for users to scroll past, or hopefully, stop and drop their email addresses. 
Placement is Key
Bottom of an Article: Some businesses will place a feature box at the end of an extensive blog. The idea here is that if someone took the time to read all of the previous, they should be willing to receive a newsletter with updates on the subject. Here, you are feeding the curiosity monster and providing the user with an answer to "what should I do now?"

Top of the SideBar: There is also the option of adding an opt-in box at the top of the sidebar. This is a classic approach and usually expected by users much like a "Contact Us" section. 

Surprise Them: You can get a little creative with placement. Test out pop-ups that are triggered as the user scrolls through the page or take a certain action. Offer the user the chance to sign up for your exclusive newsletter after they make a click indicating a particular interest.
For example, if the user is reading an article about Marketing Funnels and scrolls past a section on Personalization, maybe the writer mentions that personalization is a multifaceted topic that they only summarize here. As the user scrolls past the section, a pop-up is triggered offering to sign up for a webinar introducing all the best software involved in Personalization in exchange for the user's email address. The user signs up and is automatically sent a confirmation email as well as an option to sign up for your company's newsletter. Try out both pop-up and feature boxes strategically placed throughout your webpage to maximize the chances of capturing a lead's email address. 
Exchange Email for Product
Lots of SaaS companies as well as other e-commerce stores have the luxury of embedding their product with email. You'll notice even department stores will ask for your email at checkout. You can too. If there is a need for a login or confirmation letter sent after the purchase, ask for an email address and if they'd like to be enrolled in your promotional emails. 
Exchange Email for Offer
It is always a great idea to offer value to your customers even if it is not in exchange for cold hard cash. Chivalry is not dead and you will find that giving away educational documents or useful spreadsheets will serve you in more ways than just feeling charitable. White papers, ebooks, checklists, cheat sheets can all be exchanged by email. Use reciprocity to influence leads to opt-in for your promotional email content in exchange for valuable tools and resources. 
Good Email List Hygiene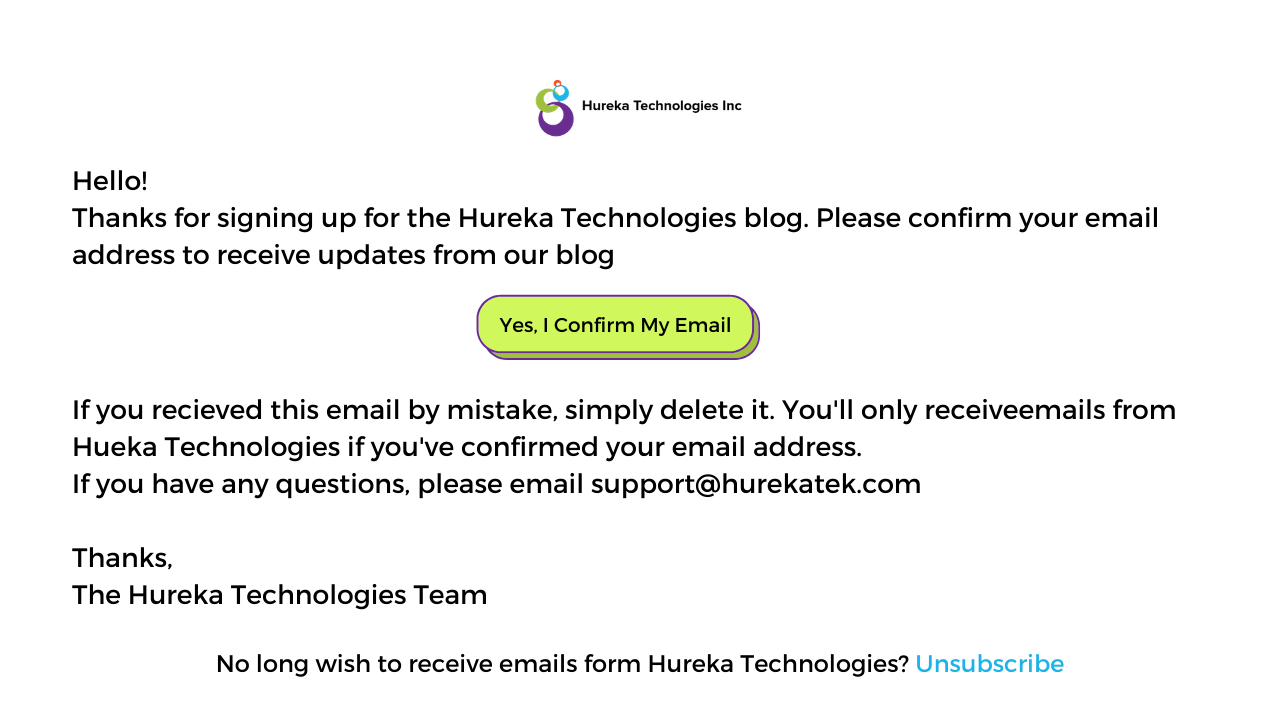 The most crucial skill to master in email marketing is practicing good email list hygiene. Remember, consent is always reversible. The user may no longer be interested in your offerings. If your list is not kept up to date you're not only wasting your resources in courting such users but also ruining the important KPIs of email marketing success. 
Gather & analyze the data on user interactions. The good news is most email marketing software already gathers this data for you automatically. You just need to interpret it and take appropriate actions. 
Segment Your List
Now that your email list is buzzing with interested leads that know your name, you can organize these individuals into groups. The alternative would be to send every email to every name on your list. Next thing you know, the only thing skyrocketing is your unsubscription rate. 
Let's say you have 100 names on your list. A modest feat, but if you have made a connection with every person on the other side of that email address, each member of your list is valuable. You want to safeguard these names and only send them messages that they will want to use.
Begin A/B Testing: 
Try this simple guide for your first A/B tests:
Take your list and split it right down the middle. 50/50
Now, take a half and split that down the middle. 25/25
You are left with two quarters and a half. 25, 25, 50
Set your half to the side and look at your two quarters. 25, 25 
Take one quarter and send them an email with a subject line saying, " 5 Tips to Build your Email List." (sent to 25 leads)
Now, take the other quarter and send them the exact same email, but with the subject line, "How to Build your Email List" (sent to another 25 leads)
After your data has been gathered, select the subject line with the highest open rate and send the remaining half of your list the email with the winning subject line. (sent to the remaining 50 leads)
Continue to randomize your list and test different variables. It's important that you test one variable at a time so as not to get confused about what is actually affecting your results. 
Once, you have collected data on the individuals in your list, you can begin to group them based on what triggers the results you want. If the same ten people are always clicking through for additional information about Online Review Management, you can begin to send that group-specific content on the topic. 
With more testing based on the answers you reveal, you can begin to segment your list into customer segments. 
Having data on users' interactions with your business allows you to segment your email list. Consequently, you can group individuals based on their last purchase, location, and create special emails based on group qualities. You could also track the button clicks inside your email, then segment the list on the basis of the products they've shown interest in. 
Here is an example of a list of customer segments that would be interested in online review management services, but each group has its unique interests: 
Dentist
HVAC
Wellness/Yoga /Health Coach
ElderCare
Hair Stylist
We know a dentist works in a practice and has patients, while a hairstylist works at a salon and has clients. If we sent every group the same email, think how impersonal and confusing the wording would seem in the wrong situation. To the user, the email would be deemed irrelevant and likely wind up in the spam folder. 
Let's say a marketing agency sends out an educational email discussing SEO (Search Engine Optimization) vs ORM (Online Review Management). Their email is opened thanks to an impressive subject line & valuable information in their email. Now the readers want to know more. The writers give them two ways to move forward: 
'Learn more about SEO' & 'Learn more about ORM.' 
Instantly, the user that clicks on the ORM button is automatically signed up for a drip-email campaign about ORM. The result? The list is segmented further and the agency is now able to send more relevant emails to this user. When you're specific about your goals & their goals, conversion journeys move fast!
Once you have narrowed down your customer segments you can create personalized lead magnets and call to action for each of them. Later on, you can begin to attract new leads within these segments by hosting customized content for each of them on your website and placing opt-in boxes where they will most likely find them.  
What to do with unsubscribers & non-engagement?
With all the effort to maintain and grow your email list, some people will inevitably unsubscribe. It is important not to focus too much on unsubscribers. 
You should remove people from your list that have not been engaging with your message for a long time. Narrowing down your list to those engaging in your business allows you to give your valuable leads personalized content. 
What's Next? 
Once your email list is up to par you can move on to creating content. If you need a bit more support in building your email list, here is a checklist to guide your process. If you find your attention elsewhere, but still want to implement email marketing in your marketing strategy, maybe it's time to start your journey with Hureka Technologies. We are a full-service digital marketing agency specializing in enabling brands to attract, engage and convert more prospects to customers. By partnering with us you can gain access to our team of specialists and watch your business grow using a digital marketing strategy that is better, faster, and economic.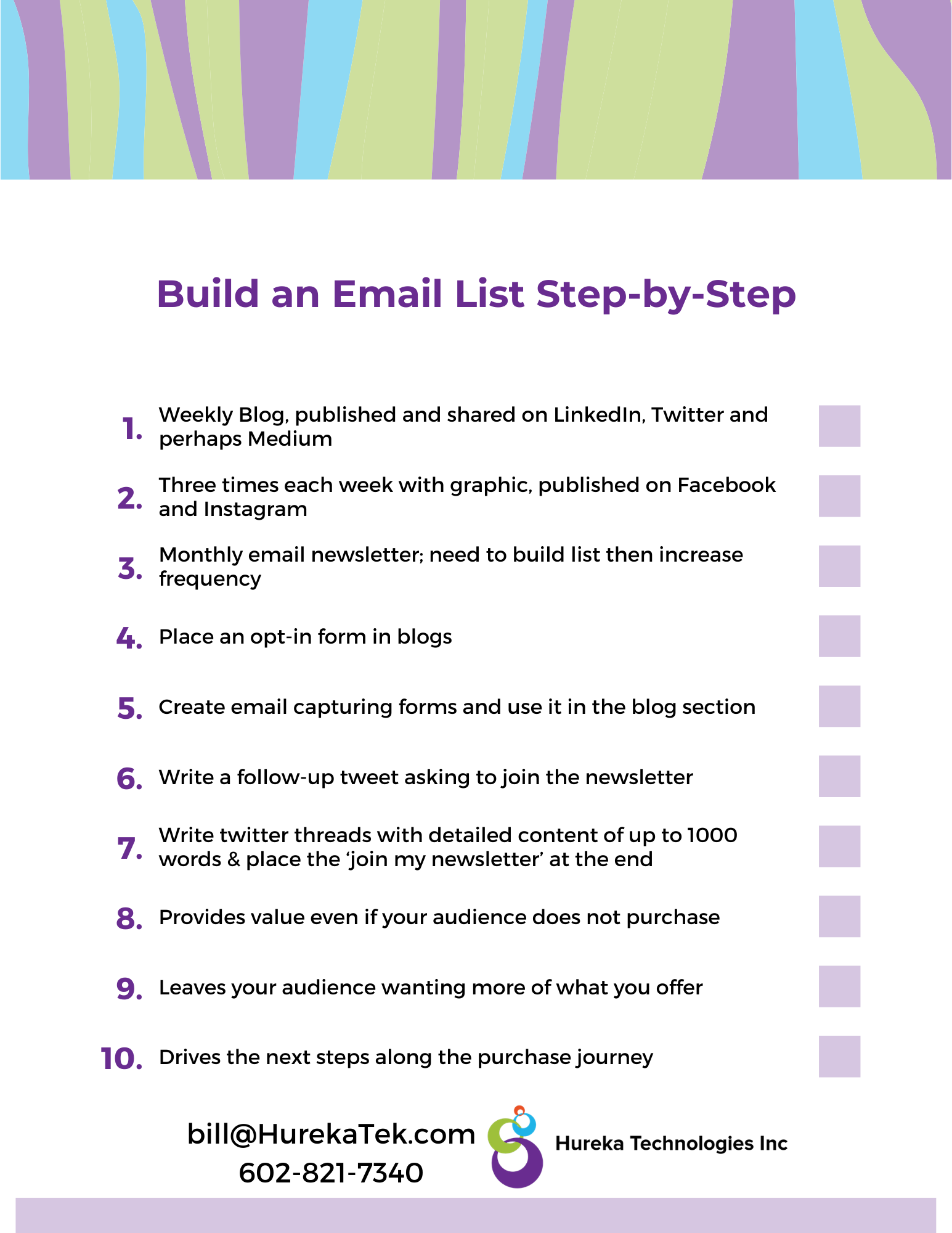 11