We've created this resource for small business owners and startups to help them learn about the on-page SEO services and techniques that are working at present and would continue giving favorable results in the near future.
In this post, we discuss over twenty-five On-page SEO services and techniques for business owners to watch over their website's on-page SEO in a better manner.
What is On-page SEO?
Search engine optimization involves several tweaks and steps that help a website to rank better in search engine results. SEO is generally divided into three main categories - on-page, off-page and technical SEO.
On-page SEO is the process of optimizing individual web pages on a website for better rankings, traffic and conversions.
Is On-Page SEO important?
A few years back SEO was mostly about link building. In 2012, Google introduced an algorithm called - Penguin which changed how SEO was done. Link building became riskier and more difficult. On-page SEO became more important.
We think it should always have been more important as on-page SEO is as much about giving the actual visitors what they're looking for as it's about giving the search engine bots content they could rank at top.
So, on-page SEO isn't important just from the search engine optimization perspective but also from the perspective of attracting real audience, real potential customers and gaining actual leads.
Also Read: 7 TRICKY LOCAL SEO CHALLENGES AND HOW WE OVERCAME THEM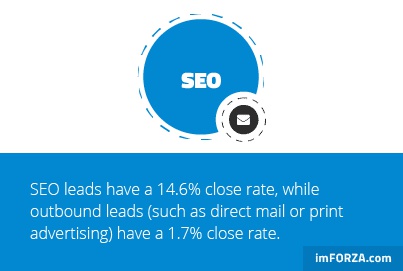 5 On-page SEO Services and Techniques You Must Follow
Keyword Research
Publish Content With Proper Optimizations
Build A Community For Better Rankings
Build Your Landing Pages Better
Rework on Existing Content
Our attempt is to discuss all the on-page SEO techniques that can boost the rankings of a website. In order to put together this list, we have not only used our own expertise - we've been offering SEO services in NJ & NYC for over a decade but also looked for what thought leaders of the industry are saying about on-page SEO in the coming years. Here's what you need to know!
Our pledge: We solemnly swear we won't bore you out with the usual - meta tags and 'content is king' jargon.
Of course, we will discuss that but from the practical good-for-future perspective.
1. Keyword Research EVERYDAY
Usually, keyword research happens at the beginning of SEO and then, just optimization work takes the front seat. #APerfectRecipeForSlowResultsorUtterFailure
The strategy that works now is checking the Google suggest, Google trends, YouTube suggest and competitors blogs every day or every week, at least -  for more content ideas and for picking up new long-tail keywords.
Once your main keywords are finalized, you should really forget the main keywords and target every single long tail keyword that's relevant to you. Targeting the low-hanging fruits, while ultimately keeping your focus on the main keyword, is the only keyword strategy that always works. The usual tools like Google keyword planner, SEMrush etc that SEO companies use obviously don't work much after the initial keyword research. SEOs need to get creative to look for keywords and content ideas.
But wait! As a business owner, you've already outsourced the work. How do you know if your selected SEO service provider is following this strategy? Either ask them for a report or log into Google Webmasters yourself and see if you're getting impressions for variations of your keywords. If you do, you're on the right track.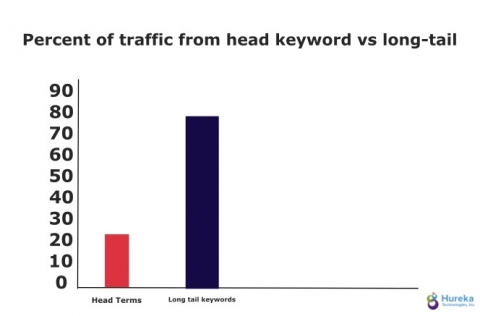 2. Publish Content With Proper Optimizations
Publishing great quality content isn't enough. You need proper optimizations in place - slight tweaks that can make your content more SEO-friendly. How to see if that's happening on your website or make it happen? Follow this list!
The Ultimate Website Content Checklist
Write down the topic of the page, in the discussion.
Ensure the topic shows up in the URL, while the URL is not too long.
Ensure the topic is in the title.
Content headings and subheadings should be variations of the topic or related to the topic.
Ensure your content is 100% original, gives out useful pieces of information, and has text variations of your topic sprinkled throughout.
Add relevant images - that add something to your overall content and not just act as a page break.
Make sure the image title and alt tag is filled with relevant text describing the image as well as mentioning the topic.
Ensure you give a meta title and meta description to the page, both should mention your topic. Remember both title and meta descriptions are actually your sales pitches, they have to be compelling enough to make users click on your link. Craft them like that.
Lastly, add some internal links to more related pages on your website. Your content should also have outbound links to relevant pages/websites.
Bonus: Share your content on social media immediately after publishing. The more your content is shared on social media, the better chances it has to rank.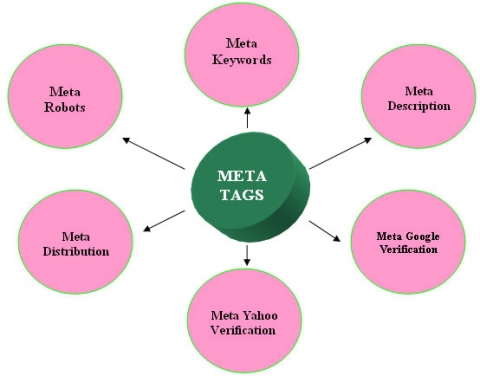 The ultimate goal with content creation of a website should be to offer informational content that -
People are looking for.
People would love to share.
Helps you cover a topic for your main keyword.
Contributes to the cluster of topics you're creating for the main keyword.
What's the ultimate number of blog posts you should publish each month?
It depends on your available resources, the keywords you're trying to target, and your existing content. But as a general rule of thumb, aim to publish at least eight blog posts every month.
Discussion on the importance of internal links often underestimated and ignored while creating new blog posts, is never complete without the example of Wikipedia. The website has the most extensive structure of internal links, helping it rank for so many high-traffic keywords. Bonus strategy to do internal linking like a pro: maintain a spreadsheet of all the webpages of your website - landing pages, blog posts, privacy policy, product descriptions… and every time, you create a blog post, check this spreadsheet to see which pages can be linked to in the post. This way you'll create maximum internal links without missing any page relevant to your blog post content.
As a business owner, randomly checking any blog post going live on your website for all the ten things we mentioned would help you get a good idea of whether the best on-page SEO techniques are being followed during your content creation process or not.
3. Build A Community For Better Rankings
Google accepted back in 2016 (Source) that if they see a healthy community thriving on a website, they give it a boost. Even if they hadn't publicly accepted that we knew it already for don't they publicly reward this on YouTube since about 2008 or even before that?
More comments and social shares equal better rankings on search engines. But there are some best practices when it comes to handling comments because Google also has a history of punishing people who don't handle their community well - aka let spam dominate their comment section.
As a general rule of thumb, don't allow links in the comments until they're relevant to your website and is a natural part of the comment itself. Allow the comments that are adding more value to your piece of content. But the bigger problem with many businesses working on their websites' SEO is how to get those comments?
We recommend four things:
Ask for the comments. Just like you see people asking for likes, and comments in YouTube videos and getting them in abundance, you can get lots of comments if you ask for them. At the end of every piece of blog content, you produce, ask a compelling question to your readers, and urge them to interact with you in the comments. It's too simple, but it also works.
If you're running an e-commerce business, customer reviews play an important role in building buyer's trust as well as in boosting your SEO. Encourage people to leave reviews. Send them emails. Reward them and ask them for reviews as much as possible. Also, respond to every single review you get it - be it on your website or on your Facebook page.
Let people know that they're talking to a real person. Most of the brands publish their blogs, while still hiding behind their brand identity. However, our research shows that if you let one of your employees be in the front and be the face of your blog community, it will get you much more engagement. Look at all the top internet marketing blogs and companies - buffer, Hootsuite… do you see them blogging as 'brand' or blogging as people working with the brand? These internet marketing companies figured it out earlier. It's time all brands and SEO services also do that.
Lastly, the most crucial step of community building is to engage with your audience. Yes, that means replying to every single comment/review you get. Sometimes, those replies can be as long as a normal 500-word blog post but those comments will not only help you create a strong bond with your readers but also give you a significant boost in rankings.
As a business owner, give your SEO services company a chance to work on such a community building. Many business owners insist on using their brand name instead of a person's name while publishing blog posts. Make a shift to that approach and you'll surely build a more engaging community.
Also Read: 4 Tips on How to Get Local SEO Traffic Near Me in 2021
4. Build Your Landing Pages Better
When we discuss content publishing, we often tend to drift towards blogs. Many SEO companies are already busy churning out blog post content while making little tweaks on the actual site page being targeted for the keyword. It has to change!
Here's a list of on-page SEO services and techniques for the site page itself.
Be ready to be a copywriter. There's a huge difference between being a blog content creator and a copywriter. A copywriter ensures to write content that says more in fewer words, delivers the message in a compelling manner, and converts! Should every blogger be a good copywriter? We dare say 'yes' with all the 'humans have an attention span of a goldfish' research!
Make sure you use lots of graphics and design elements to build your main site page. Filling it up with content like a normal blog post isn't a good idea.
Ensure the content of your main landing page is streamlined, offering little chances for the user's attention to drift and with a compelling CTA. You may wonder what about long-form content? Doesn't that work better? It surely does, which is why you need a great designer to incorporate both 'streamlined & concise' with 'long-form & detailed' in the same page. It's one of the many reasons why we often help our new clients with a redesign of their website before we work on the SEO. In most cases, it's required.
Now that you have got a compelling copy and a great design, make sure you're using all the most popular variations of your keywords in the copy. Don't worry about the keyword density. It's an outdated practice. Worry about the keyword and its variations and all the other things we're mentioning in this resource.
Fix the meta title and meta description of the content page. The most common mistake business owners make on such site pages is that they let the meta title be the same as the title of the page which is usually their target keyword. That's a recipe for disaster for you may rank at the top, once, only to have extremely low CTR making your rankings plummet down eventually. So, always ensure to put natural clickable content in the metadata as well.
Ideally, your landing pages should have no social media sharing buttons - to reduce the loss of visitors. But you should definitely be sharing your landing pages, everywhere possible - on your social media channels, in your emails, and a lot many times in your blog posts. The more you share, the better it will rank.
Bonus: Ensure your content has at least 2-5 CTAs (call to action) for this page is more about getting you conversions than anything else. Place those CTAs in a compelling manner. Offer a reward to users for clicking the CTA, if you can. This will get you what you really want - conversions.
For your business to thrive, you need just one thing - qualified leads. Landing pages are THE web pages that will bring you maximum leads and hence, you must invest in getting a good landing page - well designed and optimized that will take your business towards higher leads and conversions. Several SEO services companies offer landing page optimization services separately and you should consider investing in that, even if you're handling your SEO by yourself.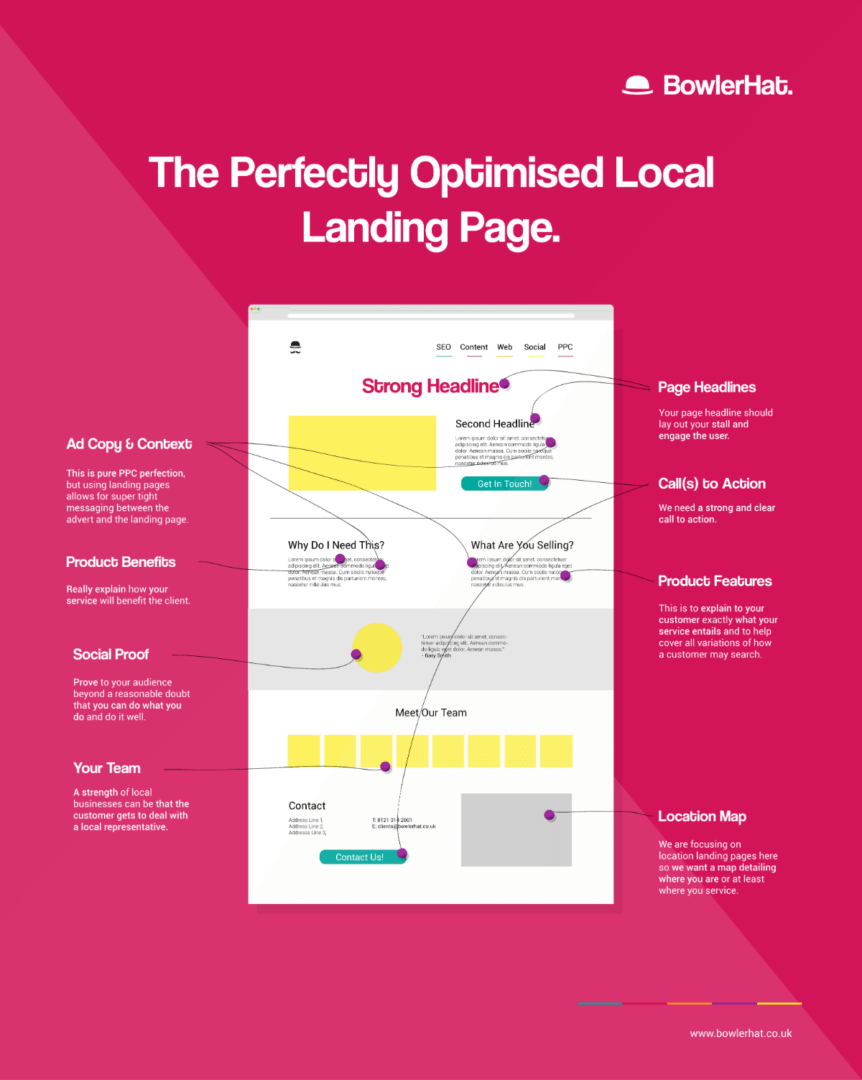 The Perfectly Optimized Local Landing Page, by Bowler Hat 
5. Rework on Existing Content
People often get in the rut of churning out new content, so much so that they totally forget how their existing content is their biggest asset. But our work has shown how reworking the old content on your website can give a big push to your rankings. Here's what you need to do.
You should also check the blog posts' performance every month and make minor tweaks, wherever required. As a regular yearly activity, go back and check your existing blog posts and see which ones can be updated with more content. Maybe, there's a new technique that you didn't discuss back then or new experiences that you can share. It's actually a very easy task especially when you're publishing evergreen content, which can always use a brush-up. Make sure you're still adding additional value and not just word count.
Do the same with your landing pages. If your landing page is stuck at one position for more than a month while all your SEO activities are going alright, you need to make tweaks on the landing page - add more data, visually appealing content or change the metadata.
Repurposing is also a great idea to reuse your existing content to boost SEO. Convert that long list post into an infographic and share it on Pinterest and in your guest blogs. Write a post discussing your infographic on your blog. Write a post discussing the story behind that picture you shared on social media or the client problem you find particularly interesting. Or maybe, this year, start video marketing by converting your existing blog posts into videos and posting them on YouTube. Do the SEO of these videos as well, and you'll see a huge boost in your overall traffic as well as in your search rankings. Consider all the platforms you're using and see how you can cross-post your existing content.
As a business owner, you should always ask for reports on what your SEO company is doing about the existing blog posts. Are they working on ranking them too? Are they re-sharing those posts from time to time? Are they adding more content to those posts every year?
Also Read: Things To Consider Before Hiring An SEO Company
Why On-Page SEO Services with HurekaTek? 
Our aim has been to create a resource that's easy to follow yet doesn't miss a detail about on-page SEO services and techniques that work at present. And because these techniques are no temporary fixes but have been developed with a fair amount of research and marketing psychology, they're best for long-term results.
We discussed the new way to research keywords - more often and with more natural tools that probably require more hard work but also, build the foundation of correct on-page SEO.
In the 'how to publish content with proper optimizations' section, we discussed 10 steps that you must follow for creating blog posts that rank and boost your landing page's ranking as well.
Building a community around your website sends a lot of positive signals to search engines to improve your rankings - but do make sure you're monitoring your community regularly and engaging with it.
We discussed, how in the end, it's the landing page that's going to matter for your business success. We discussed the most powerful optimization techniques that can help you rank your landing pages better.
Lastly, we discussed how you don't always have to work on something 'new'. Your old content took lots of hard work and time & you better start making good use of it.
For further assistance with search engine optimization services, get in touch with us. We also offer a free consultation for brands to help them recognize what's stopping them from ranking at the top. Call us for a free consultation!
13